Crave House™ Plant-Based Meatballs

Grilled Meatballs Skewers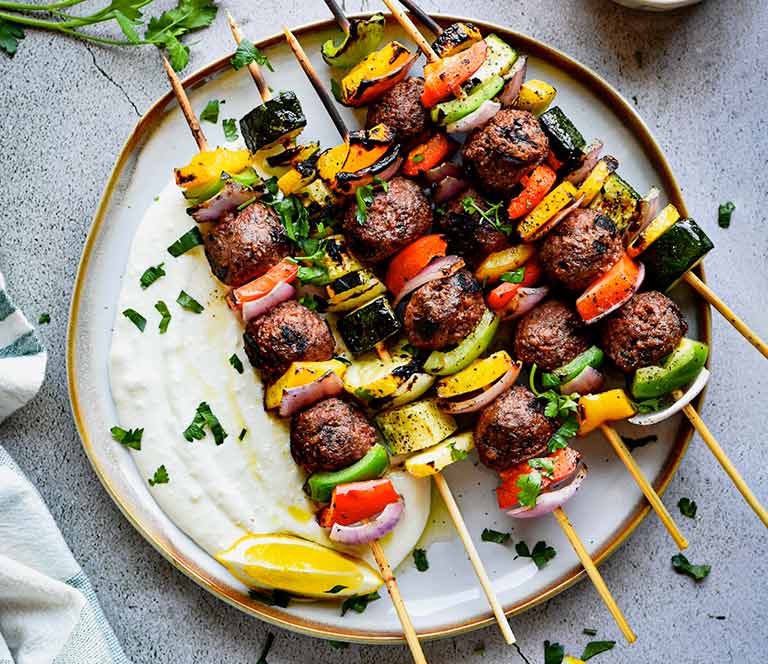 Cook Method
Ingredients
2 tablespoons olive oil

1 each green, red, orange bell peppers, cut into chunks

1 red onion, cut into wedges

1 cup feta cheese

1 tablespoon Greek yogurt

1 tablespoon olive oil

1 tablespoon lemon juice

Fresh parsley, chopped
Instructions
In food processor, blend feta cheese, yogurt, olive oil and lemon juice until smooth. Refrigerate until needed.

Preheat outdoor grill to 350

°

F. Rub meatballs with olive oil.

Skewer meatballs, peppers and onions (if using wooden skewers, soak skewers for at least 3 hours to prevent them from burning). Spray nonstick cooking spray on grill grates, then place skewers on grill. Cook for 12 minutes, turning every 3 minutes, or until meatballs reach an internal temperature of 165

°

F.

Remove skewers from grill and let rest for a few minutes. Serve skewers with whipped feta sauce.
Recipe by @uncomplicatedchef